Acting Customs and Border Protection Commissioner John Sanders resigns amid furor over treatment of migrant children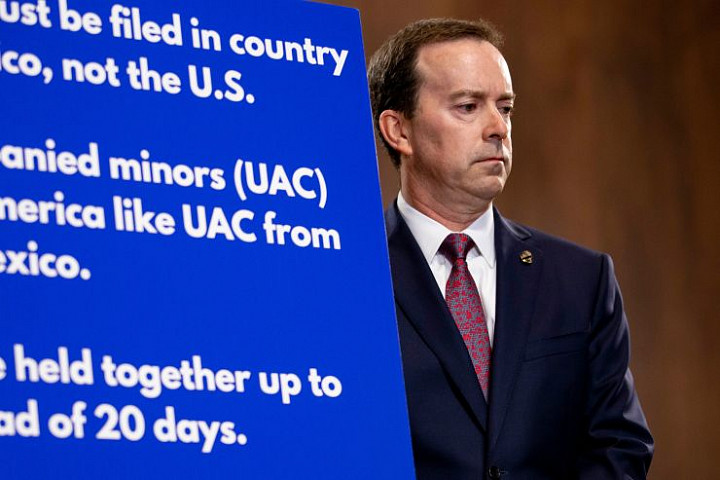 Customs and Border Protection acting Commissioner John Sanders listens during a news conference where Lindsey Graham, (R-SC)., is proposing legislation to address the crisis at the southern border at the U.S. Capitol on May 15, 2019 in Washington, DC.
Anna Moneymaker | Getty Images
Acting Customs and Border Protection Commissioner John Sanders will resign, a CBP official said Tuesday, as the Trump administration faces furor over treatment of migrant children.
He steps down amid backlash over conditions at a border patrol facility in Texas. Sanders' departure is effective July 5, the official said.
The New York Times first reported his resignation.
Sanders' decision to step down leaves the White House with yet another vacancy in a key role at a fraught time for U.S. immigration policy. The administration face bipartisan pressure to take better care of detained children. President Donald Trump has also threatened mass deportations if he cannot come to an agreement with Democrats on tweaks to immigration laws.
Concerns about the facility near El Paso, Texas have also complicated efforts to pass a bill to send emergency aid to address the migrant crisis. After liberal members of the Democratic-held House raised concerns about treatment of migrant children, the party released a bill Tuesday that would set health and safety standards that CBP has to follow.
The House is expected to vote on the measure later Tuesday.
Sanders took over the role of acting commissioner in April. He assumed the role after the former CBP Commissioner Kevin McAleenan became the acting Homeland Security secretary following Kirstjen Nielsen's departure.
Last week, the Associated Press reported that a legal team who interviewed children at the facility described poor food, water and sanitation for the roughly 250 children detained at the Texas facility. Older children said they had to help feed and clothe a toddler held at the border station, according to the report.
While a CBP official told the AP that the government moved most of the children to other locations operated by the Office of Refugee Resettlement, more than 100 kids went back to the Clint, Texas facility, according to a Tuesday report.
Last week, Sanders urged Congress to allot more funding to deal with the humanitarian crisis at the border. He said "they can't move the people out of our custody" because of a lack of money.
More